You might have noticed I haven't been around for a while.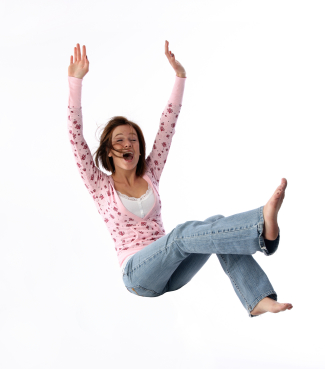 I wrote my last post a month ago. What happened to me? Did I get sick? Did I have an accident on my new bicycle? Did I have a family crisis? Did I win the lottery and depart on a world cruise?
No. None of those events happened. Nothing happened in my life except that it got a little busier.
I'm preparing a workshop that I will be presenting in June. I'm moving my therapy office from one location to another. Those two tasks alone have taken up much more time than I anticipated. But why did I allow them to get in the way of my writing here—especially when I know so many of you are as excited as I am about our journey and the prospect of learning to live a more meaningful life?
I lost sight of my values.
I am taken aback by how easy it was to slip back into living in a manner that is less conscious than I want my life to be. Slipping is part of the journey, and that is the topic of today's post.
Before we go any further, let's do a quick review about our journey toward a more values-based, meaningful life.
The invitation
A few months ago, I posted How to live a more meaningful life: An open invitation. We had a great discussion about the idea that most of us are tired of living a life based on thinking, "When I acquire or achieve ______, then I'll feel better or my life will be good or I will have 'arrived.'"
The problem is that we spend much of our time trying to acquire or achieve whatever fills in that blank rather than fully living the life we have now. And then, when we finally acquire or achieve _______, we feel great for a while, but soon we're back to feeling empty. And so we start striving toward the next __________ that we believe is bound to make us feel better.
The missing component is living by our values. Our values address questions like: What is my life about? What impact am I making on the world? How can I strive to live a meaningful life when I'm dealing with painful thoughts, feelings, and events?
Naming our values
Next, I posted Naming your values: The compass for a rich, meaningful life.  I also created a worksheet to help us name our values and identify which ones are most important.
And then, we looked at whether we are actually living those values.
I found that three of my top values were community, kindness, and making a difference.
Slipping
Writing the Bounce blog and conversing with you is one way I create and enjoy community, exercise kindness, and make a difference in the world.
So, how was I so easily distracted from my writing?
I slipped into old beliefs  and habits.
Certainly, there is nothing wrong with my preparing for a workshop or relocating my office. However, due to the time pressure I felt I was under, I reverted to my old thought process:  "When I get my office moved, then I'll be less stressed. After I present this workshop, then I'll get back to writing."
I fell right back into "When _________ happens, then everything will be okay, and then I can write my blog." It's an old habit, and I'm guessing it's one that you struggle with, too.
It's easy to slip back into "When-Then" thinking. We need to accept that slipping happens, and then take action when we recognize that we've slipped.
Getting back on our path
In my next post, I will present some techniques to help us get back on our path when we slip.
I'd like to hear how you are doing on this journey. Have you done some work on naming your values?  How have you attempted to better incorporate your values into your daily life? What blocks you from fully living your values? Have you slipped like I did? What did you learn from slipping?
I appreciate your patience with me as I stumble over some rocks in my path. I hope I can turn them into stepping stones for us all!
Comments